60 Hudson Street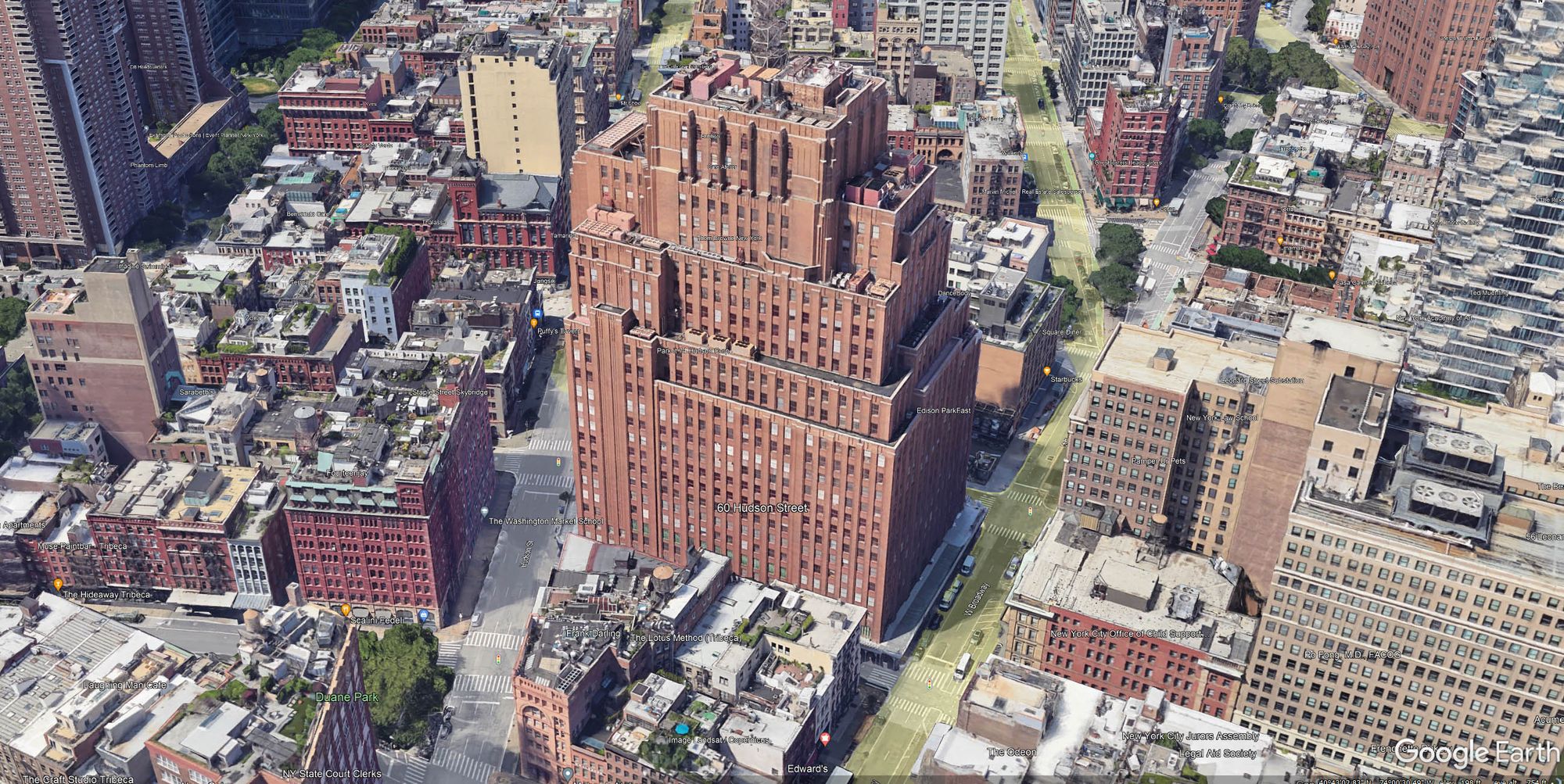 No, this isn't the start of some Horror film... It is where the Internet lives.  
You may have seen this building, or perhaps if your lucky enough, went into the beautiful lobby at some special event.  Average folks, don't give this iconic building, that looks rather plain in a Tribeca neighborhood of Manhattan in NYC, a second thought.  It looks like a plain Hotel or office building, yet perhaps a bit more well built looking, with all the stone, marble and brick. Not to mention its beauty inside the lobby, but where the real magic and awesomeness resides, is the secure floors above.
If you want to search online for more images inside and the exterior I encourage you to do so.  This building has quite the history, one which I will try and sum up while giving some amazing statistics at the end.  Now for a little history lesson.  
60 Hudson Street was built in 1930 for the Western Union Company, it spans an entire block.  This was the HQ of Western Union up until the mid 70's, think ladies manning manual telephone switchboards in the 30's  and running around Telegrams by hand in the earlier years. Oh how far has this building has come from those days.  The buildings all around 60 Hudson, how they are related, is no coincidence either.
Today?  60 Hudson Street is known as a super "carrier hotel", carrier as in telecommunication carrier.  It is arguably the most important in the world for data telecom providers and data networks!  Networks of over 300 service providers, you name it, come here to play with the other big boys and talk to each other.
Google, Microsoft, Level3, Verizon, Meta, AT&T, Cox, Comcast, Spectrum all have massive capacity fiber lines coming into this building from literally all over the world to "meet up" in one of the biggest interconnect hubs on earth.  This is important to note, as traditionally this building and one other like it nearby act as the routing gateway to Europe for the US and other countries via undersea fiber cables that run along the ocean floor to landing points close by on Long Island, NJ etc.
In the old days, Western Union relied on the old "AT&T long lines building" right up the street.  There is a massive maze of conduit and tunnels that interconnect these two buildings.  There also is a Con-Ed substation right next door, convenient when your talking insane power usage. Essentially 24 stories jam packed with millions of feet of cable all over the place and a massive appetite for energy.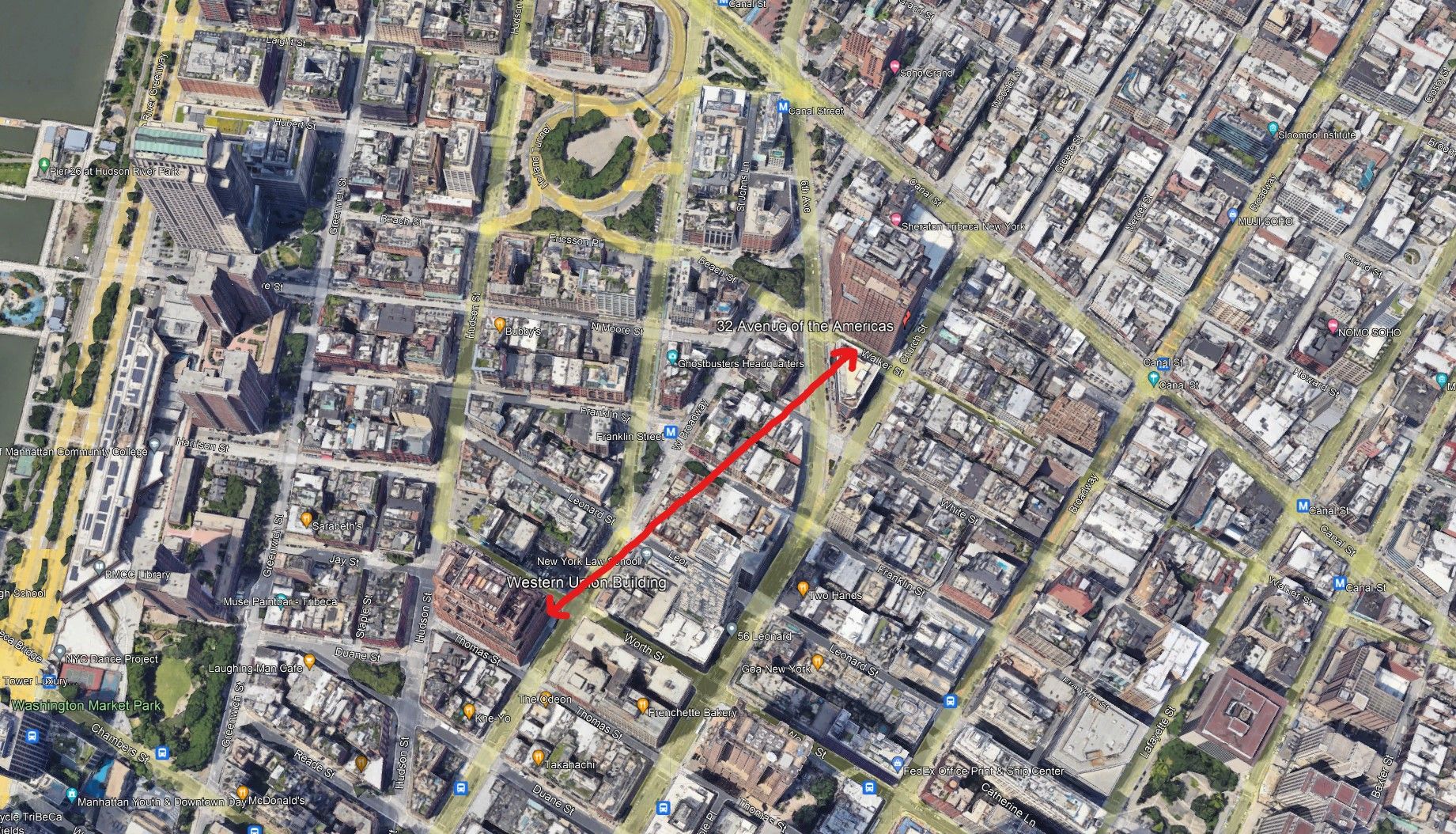 The lobby looks very business like and luxurious, almost like a 5 star hotel resort. Ironic that the unseen and highly guarded and secretive floors above, literally contains the biggest peering and interconnect location in the world.  Each floor has big name service providers or data center operators, here is the actual tenants and their suite info based on the research I found online.
Floors in ascending order of big name tenants.
(Floor 2 - Level 3 Communications)  (Floor 3 - BCE)  (Floors 5, 6, 7, 8 DataGryd)
(Floor 9 -Telx/Digital Reality)
(Floors 10 - 20 contain the following providers
Colocation America, Epsilon, Viatel, Tata Communications, zColo, Optimum Lightpath Cablevision, XO Verizon, Lightower Communications, Equinix, Zayo)
These companies are often offering 2 major functions.  Interconnecting massive bandwidths with all  the other providers, and data center build out and hosting companies.  The data center companies like Telx, Digital Reality and Equinix are in business to provide smaller players with the power, cooling, bandwidth, racks, redundancy and physical security.  So a company comes in and sections off X number of SQ feet of space of cages and subsections where they build "their little home" on the internet.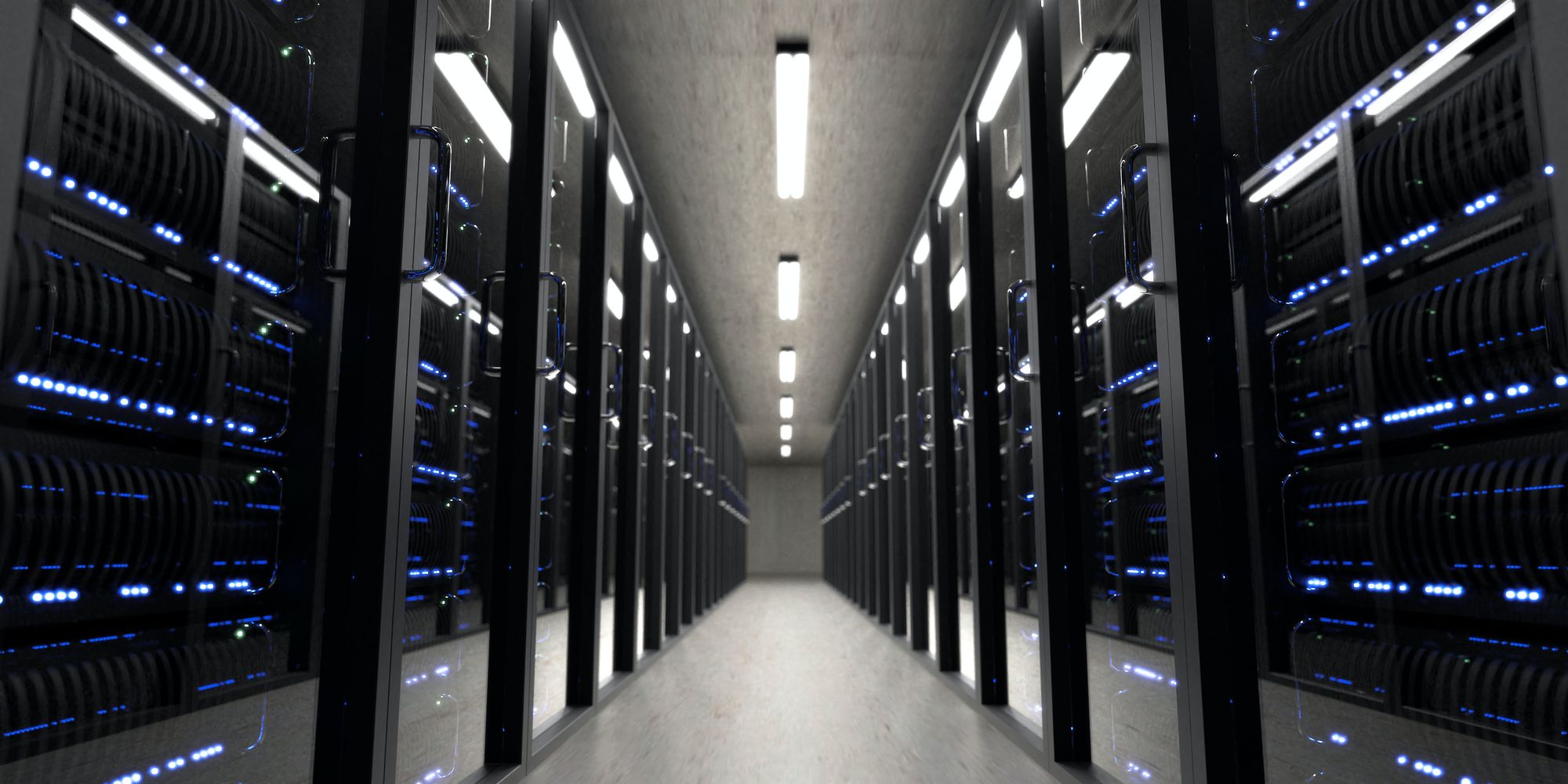 In fact, this blog article your reading right now, is hosted using Open Source blogging platform called Ghost, running on a Linux VM.  Which has resources allocated from their Hypervisor, running on a physical rack server in one of DigitalOceans NYC data centers. DigitalOcean does not own their own Data Centers, it is a vague and overused term these days. They are essentially large co-locators with a company I listed above, called Digital Reality.  
Digital Reality provides Digital Ocean with the foundational core infrastructure. DigitalOcean pays for X number of square feet, and they build out their physical cages, racks with server's running virtualization hypervisors to allow you to scale up or down quickly and easily.  They then sell those compute and network connectivity resources to people like yours truly. :)
So to summarize, NetmanageIT sources from Digital Ocean, Digital Ocean sources from Digital Reality and multiple communication providers.   Multiple smaller companies and hosting providers are claiming their piece of the pie from a larger company, and everything is conveniently all located in one building.  Pretty fascinating eh?  
I will leave you with some interesting stats about 60 Hudson Street.
There are 4 enormous generators located on the top floor inside, vented to the roof and are capable of 3 Megawatts each.
Total power capacity of entire building is 50 Megawatts
There is over 70 million miles of cables running through ceilings, plenum, walls and conduit.
There are over 300 telco data service providers from the US and globally.  Every big name you can think of all come into this building to connect their networks together.  This is done in "meet me" rooms, otherwise known as "peering".
Its sister building down the road, 32 Avenue (AT&T long lines building) along with 60 Hudson,  together is the very heart of the telco phone switching and Internet data worlds.  The very first phone services and long distance services started in this very building.  See google map picture above.
NYC approved the storage of 2,000 gallons of diesel fuel on six floors inside the building, a fraction of the total 80,000 gallons of total fuel onsite. Can you imagine the fire suppression system?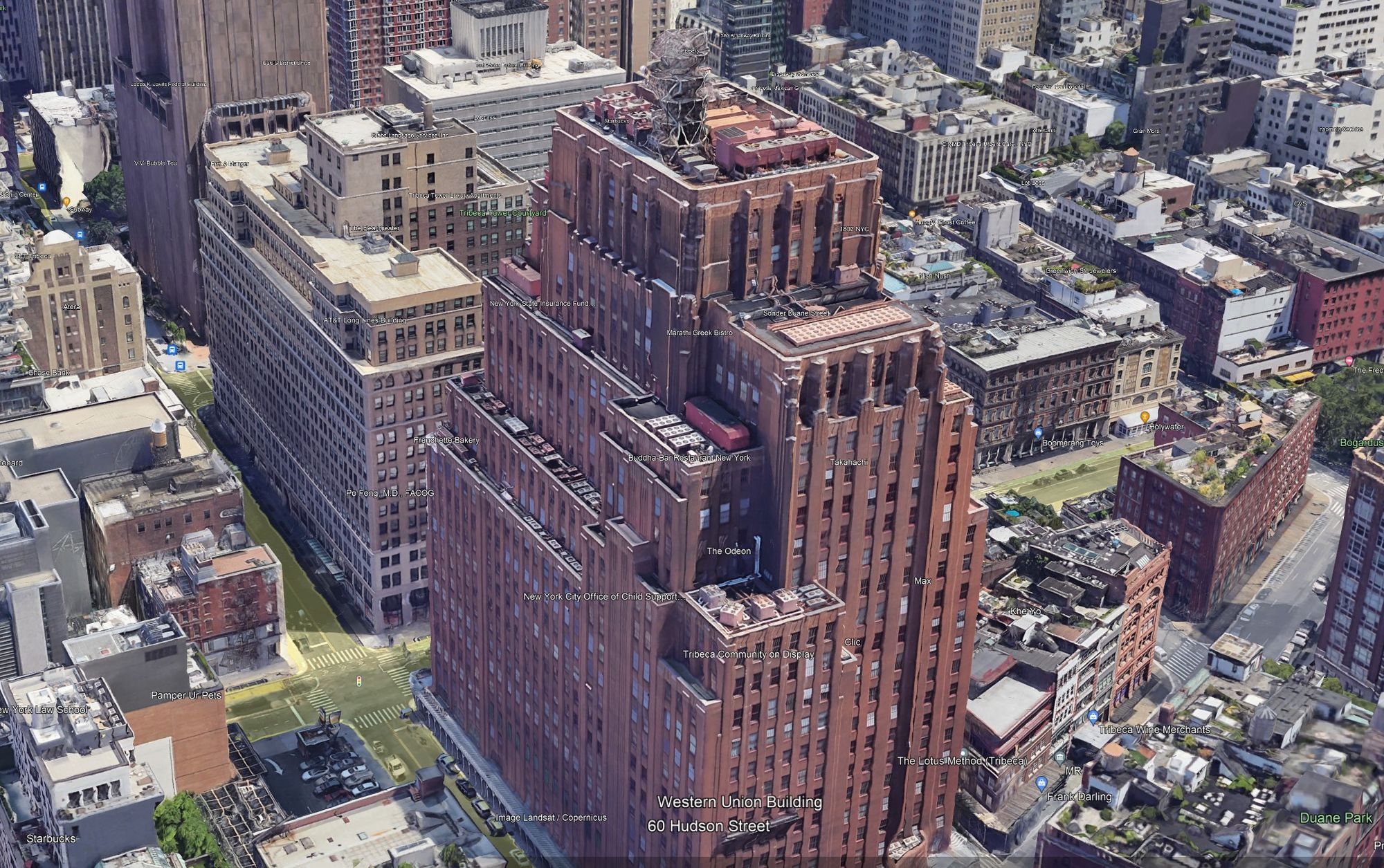 I came across the YouTube video below on accident, but there is tons of high def drone footage of 60 Hudson in this video.  Go to min mark 9:26 for amazing overhead flyby.
I hope you enjoyed this quick tour of this amazing building and its importance to the internet as a whole, while interconnecting the entire planet through the speed of light.
I encourage you to do your own research if 60 Hudson Street intrigues you, as there is a rich history I merely scratched the surface of.
Best...
Dan